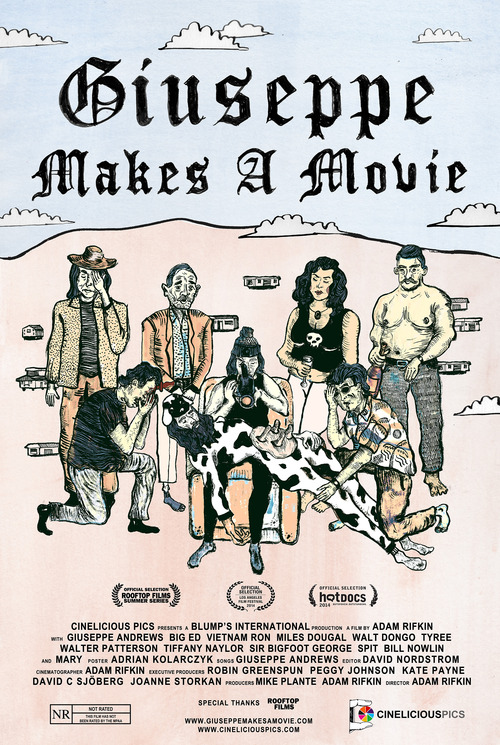 Cast: Giuseppe Andrews, Big Ed, Vietnam Ron, Miles Dougal, Walt Dongo, Tyree, Sir Bigfoot George, Spit, Walter Patterson, Tiffany Naylor, Bill Nowlin, Mary.
Forget Korine and Gallo, Giuseppe's low-rent trailer trash movies are the real deal.Nobody has gotten this close to the subject matter at hand.
While the rest of America slept, DIY filmmaker/musician Giuseppe Andrews (a one-time teen actor in Independence Day and Detroit Rock City) has made over 30 experimental features with titles like Doily's Summer of Freak Occurrences, Trailer Town and Utopia Blues. Set in some demented alternate universe (i.e. Ventura, California), they are populated by real-life alcoholics and drug addicts, trash-talking senior citizens and trailer park residents dressed in cow outfits and costume-shop wigs, acting out booze-fueled vignettes of severe psychosis filtered through Giuseppe's John Waters-meets-Harmony Korine-meets-Werner Herzog sensibility.
Director Adam Rifkin (Look, The Dark Backward) creates a wildly surreal, outrageously funny and strangely touching portrait of a truly Outsider Artist inhabiting a world few of us even know exists, as he follows Giuseppe and his seriously impaired troupe on the production of his latest 2-day opus, Garbanzo Gas, starring Vietnam Ron as a Cow given a weekend reprieve from the slaughterhouse at the local motel. Beyond the sun-stroked Theater of the Absurd madness of Giuseppe's vision, there is a remarkable and endearing sense of family among the director, his amiably bonkers dad Ed, patient girlfriend Mary, Sir Bigfoot George and the rest of his surreal Trailer Park rep company.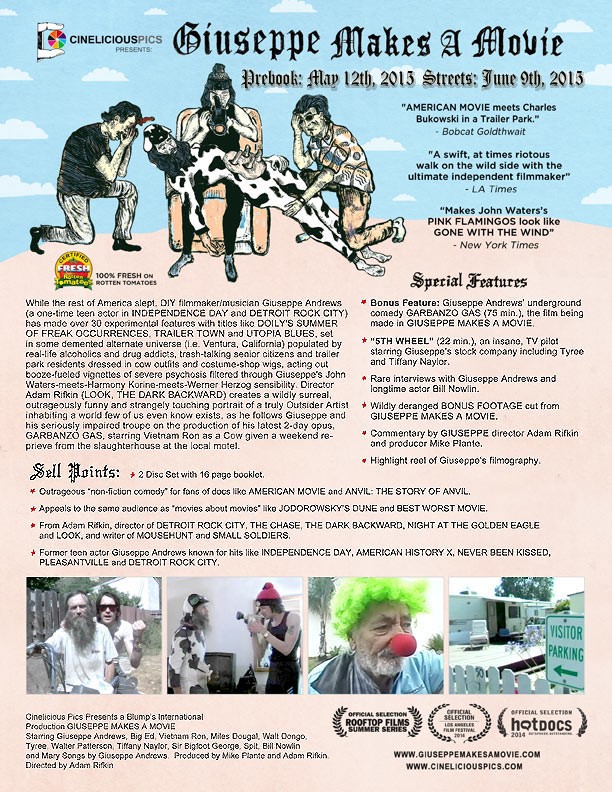 WEBSITE: http://giuseppemakesamovie.com/
Bonus Features:
Trailer, Audio Commentary
Deleted Scenes
Garbanzo Gas feature film
Highlight Reel
Interview with Giuseppe Andrews
Interview with Bill Nowlin
5TH Wheel TV Pilot
Reviews:
AMERICAN MOVIE meets Charles Bukowski in a trailer park.
-Bobcat Goldthwait
A swift, at times riotous walk on the wild side with the ultimate independent filmmaker
-LA Times
Makes John Waters's PIK FLAMINGOS look like GONE WITH THE WIND.
-New York Times