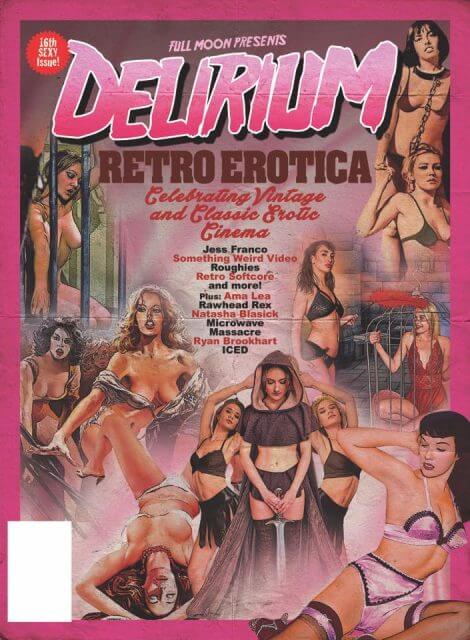 DELIRIUM is the print horror and exploitation film culture magazine published by Charles Band (Full Moon) and edited by Chris Alexander (FANGORIA).This issue features a Ryan Brookhart collage cover celebrating our focus on Retro Erotica, a snapshot of sexiness from SINema's stories past, from the Euroshock of Jess Franco to the sleazy thrills of Something Weird Video, to the "beyond the beaded curtain" softcore flicks of the 1990s video store apex.
 Plus a look back at Clive Barker's RAWHEAD REX, ski bum slasher ICED, Ama Lea's sexy Caroline Munro and Felissa Rose photos and TONS more.
 You can subscribe to DELIRIUM by going HERE.
DELIRIUM #16 will be available in print and digital in MARCH with a special release party and signing on March 18th at Burbank hotspot Dark Delicacies.