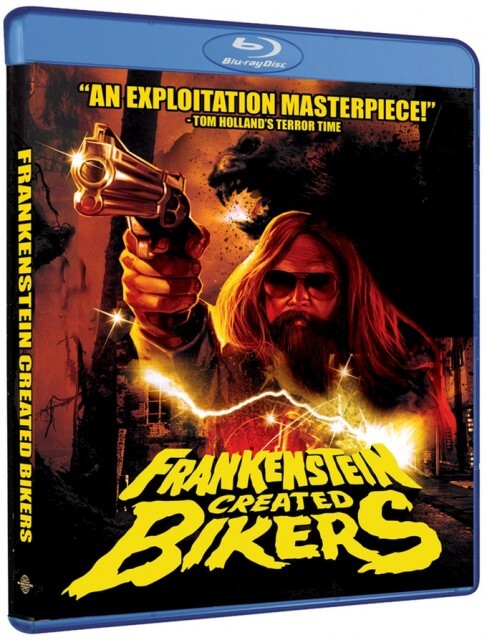 Big World Pictures, LLC announces the street date for FRANKENSTEIN CREATED BIKERS will be March 14th, 2017.
Lensed in 10 Georgia cities on Super 35mm film, "Frankenstein Created Bikers" centers on the re-animation of the South's most notorious biker gang called The Impalers. Dr. Marco (Paul McComiskey) and his assistant (Laurence R. Harvey) are performing gruesome experiments in their asylum lab and have resurrected the thrill-kill motorcycle club to capture a Bigfoot carrying a pathogen that will allow them to perform a human head transplant. When news of the gang's resurrection draws the attention of bounty hunters, law enforcement and rival gangs, the lofty aspirations of these mad scientists start to spiral out of control. Things get even worse for the occupants when failed experiments escape from the basement and their lab is attacked by a bomb-happy femme fatale named Val (Tristan Risk).
Filmmaker James Bickert has created another unpredictable smorgasbord of drive-in depravity guaranteed to splat your brains onto the honky tonk floor. Starring genre favorites Jett Bryant (DEAR GOD NO!), Laurence R. Harvey (HUMAN CENTIPEDE 2), Tristan Risk (AMERICAN MARY), Ellie Church (HARVEST LAKE) and Madeline Brumby (SPRING BREAK ZOMBIE MASSACRE). With over 25 awards in 10 countries, FRANKENSTEIN CREATED BIKERS eviscerated the genre film festival circuit in 2016 and now it can be yours to own!
Special Features for the FRANKENSTEIN CREATED BIKERS Blu-ray / DVD combo include:
• 50GB Blu-ray
• High Bitrate transfer from original Super 35mm Kodak Vision 3 250D Film
• Uncompressed audio
• Trailer and  Original Concept Trailer
• Crowd Funding Pitch
• "Let's Have a Beer!" Audio commentary with writer/director/producer James Bickert and star Jett Bryant
• "Let's Go to the Drive-In Double Feature"  4-hours of fake snack bar ads, trailers, intermission and BONUS FEATURE FILM!
• Deleted and Extended Scenes
• Behind the Scenes Footage and Bloopers
• Scene Selections
• Reversible Cover
• 2 Trading Cards
• Hidden Easter Eggs
• English, French, Italian, Portuguese and Spanish Subtitles
• All-region NTSC discs
The Blu-ray / DVD combo is limited to 1,000 discs.