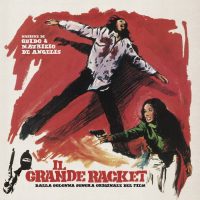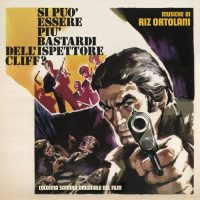 THE BIG RACKET:Now for the first time on vinyl, Four Flies Records present two unmissable Eurocrime soundtracks. THE BIG RACKET by Guido & Maurizio De Angelis, composed in 1976 is considered to be one of the genre's finest offerings directed by Enzo G. Castellari.
Perhaps the most forceful OST from the Italian duo, IL GRANDE RACKET consists of fuzz distortion and electronic effects from the beginning to the end. This sonic gem is also enriched with psychedelic flutes, obsessive rhythms, and percussion which results with a totally prog-rock and psych-funk score that perfectly describes the main elements of the film: action, tension and violence. Remastered from the original master tapes preserved for decades in the C.A.M. archives, and augmented with exclusive liner notes by Davide Pulici (Nocturno Cinema) and stunning original artwork created by Luke Insect, this edition will be a true pleasure of the senses for any and all soundtrack lovers.
SUPERBITCH:Previously unreleased complete edition for this explosive jazz-funk score by Italian maestro Riz Ortolani, written in 1973 for the poliziotteschi film, "Si può essere più bastardi dell'ispettore Cliff?" (also known as "Mafia Junction" and "Super Bitch" (UK)).
Only two tracks from this soundtrack were ever released, and as a result is now an extremely rare and sought-after C.A.M. 7-inch – but that was enough to create the legend.Four Flies Records have been granted access to the original C.A.M. master tapes and present, for your listening pleasure, the complete recording session for the first time!
Expect to hear one of the funkiest pieces of Ortolani's entire compositional career: the audio backdrop to car chases, erotic sex scenes, and outlandish violence are accentuated here by amazing drum breaks, fat bass lines, a captivating horn section, and wonderful guitar effects. A totally outstanding session, and an essential new classic for all Eurocrime- funk lovers!