Think Frank 'Brain Damage' Henenlotter and Stuart 'Society' Gordon meeting Gaspar 'Enter The Void' Noe in a dirty alley!
FLYING LOTUS'S PSYCHEDELIC NIGHTMARE "KUSO" OOZES ITS WAY ONTO SHUDDER.
SHUDDER has announced today that it is acquiring North American and UK/Ireland rights to Flying Lotus's psych-out nightmare KUSO. The film, which made a buzzy debut at the 2017 Sundance Film Festival, will be available on the premium thriller, suspense and horror video streaming service from 21 July.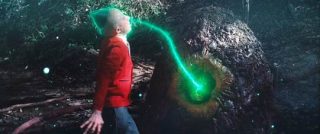 KUSO marks the feature directorial debut from Steve, the filmmaking alter-ego of Steve Ellison, better known as music producer, DJ and rapper Flying Lotus. Ellison's name has become synonymous with creative innovation, having released five seminal studio albums, a slew of audio-visual marvels and, in the process, gaining two Grammy nominations including one for his work on Kendrick Lamar's To Pimp A Butterfly.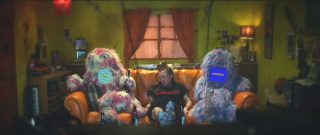 Broadcasting through a makeshift network of discarded televisions, KUSO depicts the aftermath of Los Angeles's worst earthquake nightmare. Viewers travel between screens and aftershocks into the twisted lives of the survived, experiencing a hallucination that feels like David Cronenberg meeting Ren & Stimpy.Using music, special effects and animation to take a unique look at the dark history of America, KUSO brings different characters and stories to the screen, and features a predominantly black cast. As an artist, renaissance man and auteur in the making, Steve's work has been compared to the work of David Lynch and Matthew Barney.
Produced by Eddie Alcazar, and featuring Hannibal Buress (NEIGHBORS, Broad City), Anders Holm (Workaholics, The Mindy Project), Tim Heidecker (Tim and Eric Awesome Show, Eastbound and Down), and iconic Funk musician George Clinton, the film also includes an original score and musical collaborations with Aphex Twin and Akira Yamaoka.