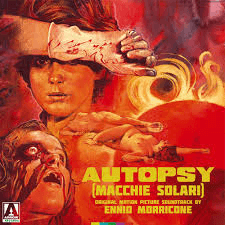 The giallo thriller genre afforded Ennio Morricone the opportunity to push back musical boundaries and take his compositions into the outer realms of avant-garde experimentation.
Armando Crispino's 1975 horror masterpiece, Macchie Solari (commonly known as Autopsy) is undoubtedly one of the more grisly films of this genre and, responding to the heightened subject matter, Morricone ditched all but one conventionally melodious track in favour of a full-on atonal assault of wretched strings and hellish arias.
Never-before released on vinyl, it is presented here on double translucent marbled orange 180 gram vinyl, with 350gsm gatefold sleeve. Newly mastered by James Plotkin with liner notes by Lovely Jon.
This is an exclusive release for Record Store Day 2018.