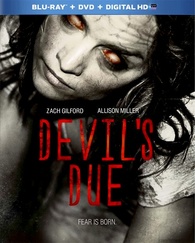 A young couple's blessed event turns into their worst nightmare in one of the most terrifying horror films ever conceived!
Directors: Matt Bettinelli-Olpin & Tyler Gillett / Starring: Zach Gilford, Allison Miller, Sam Anderson, Griff Furst.
After a mysterious, lost night on their honeymoon, a newlywed couple finds themselves dealing with an earlier-than-planned pregnancy. While recording everything for posterity, the husband begins to notice odd behavior in his wife that they initially write off to nerves, but, as the months pass, it becomes evident that the dark changes to her body and mind have a much more sinister origin.All will suffer…but who will survive?
Special Features: Deleted Scenes / Radio Silence: A Hell of a Team / Director's Photo Album / Music Index / Ashes to Ashes / The Lost Time/Roommate Alien Prank Goes Bad / Mountain Devil Prank Fails Horribly / Audio Commentary with Matt Bettinelli-Olpin, Tyler Gillet, Chad Villella, and Justin Martinez / Theatrical Trailer.