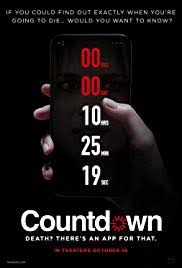 For fans of DEATH NOTE, ONE MISSED CALL, FINAL DESTINATION and UNFRIENDED.
IF YOU COULD FIND OUT EXACTLY WHEN YOU'RE GOING TO DIE… WOULD YOU WANT TO KNOW?
Starring Elizabeth Lail, Anne Winters, and Peter Facinelli / Directed by Justin Dec.
When a young nurse downloads an app that claims to predict exactly when a person is going to die, it tells her she only has three days to live. With time ticking away and a mysterious figure haunting her, she must find a way to save her life before time runs
out. Following her star role in Netflix's hugely successful YOU, Elizabeth Lail will be starring in this exciting new race-against-the-clock tech-horror.
COUNTDOWN will be out in UK Cinemas on Saturday, October 25th.