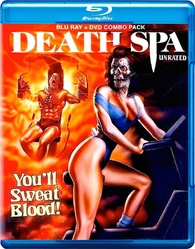 Director: Michael Fischa / Starring: William Bumiller, Brenda Bakke, Merritt Butrick, Robert Lipton, Alexa Hamilton, Ken Foree.
Michael's health club is beseiged with a series of terrible murders involving killer saunas and other grisly devices. Michael's wife, Catherine, killed herself a year ago, and her brother, David, blames Michael. Can Michael stop the bloodshed before he loses all of his clients ?
See also: Aerobicide, Fatal Games, Graduatiion Day.