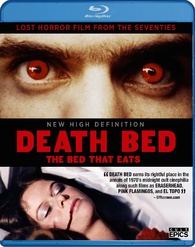 Full Screen DTS-HD Master Audio 5.1 Surround DTS-HD Master Audio 2.0
Directed by: George Barry.
Stars: Demene Hall, Julie Ritter.
Prepare yourselves! The strangest bedtime story ever told! Cult Epics brings you Death Bed, George Barry's uniquely weird journey through a world of wind demons, carnivorous furnishings and the spirit of Aubrey Beardsley! At the edge of a grand estate, near a crumbling old mansion lies a strange stone building with just a single room. In the room there lies a bed. Born of demonic power, the bed seeks the flesh, blood and life essence of unwary travellers… Three pretty girls on vacation, searching for a place to spend the night. Instead, they stumble into nightmares – and the cruel insatiable hunger of the Bed! Death Bed is a one-of-a-kind experience: comic, horrific and dreamlike, that truly has to be seen to be believed. Discover this neglected marvel of American horror for yourself!
Bonus Features: New HD Transfer, Introduction By Stephen Thrower, Introduction by George Barry, Audio commentary by George Barry and Stephen Thrower, Conversation between George Barry and Stephen Thrower on horror films of the 1970s & 1980s, Behind the Scenes of Death Bed in Detroit (2013), Original Death Bed Music credit track (1977).