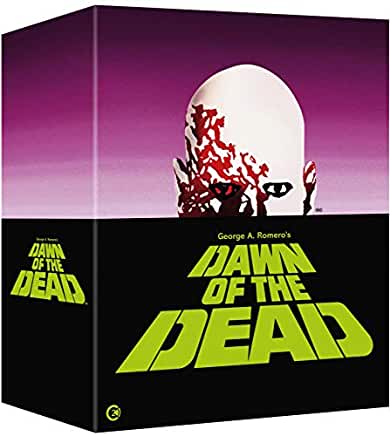 When there's no more room in hell, the dead will walk the earth.' 
George A. Romero's Dawn of the Dead remains one of the greatest horror films ever made, often imitated but never equalled, and is now presented in a brand-new restoration.This seminal work has been painstakingly restored and arrives in two separate format releases: Dawn Of The Dead Limited Edition 4K UHD and Dawn Of The Dead Limited Edition Blu-ray on 16 November 2020.
Most horror fans, particularly hardcore fans of Romero's masterwork DAWN OF THE DEAD, will already have many versions of DAWN, undisputedly one of the best horror films of all time.I have it on VHS, Betamax and several Blu-ray's , the last being the 'Nicolas Winding Refn Presents' 4 Disc Box set from Italian distributors Midnight Factory/Koch Media.This release, which included the European, Theatrical and Extended cuts was the very best way to view DAWN ….. UNTIL NOW !!
Second Sight's staggeringly beautiful Limited Edition Blu-ray set (also available as a 4K UHD set) is THE ONLY box set you will ever need to experience DAWN. This set boasts every single DAWN extra that has ever existed as well as a mother lode of NEW extras, something that many box sets shy away from as its easier to rehash or port over previously used content.This collection is running alive with new special features. Also, as a comparison to the Italian set, Second Sight's restorations are, simply put, mind blowing.I have never seen DAWN looking this good and I have never seen the Argento cut looking so beautiful following restoration.
As a collector of Cult/Horror/Exploitation physical media I can honestly say this set is the finest CULT BOX SET of the last 5 years and the most exhaustive and extras packed Horror release of the decade.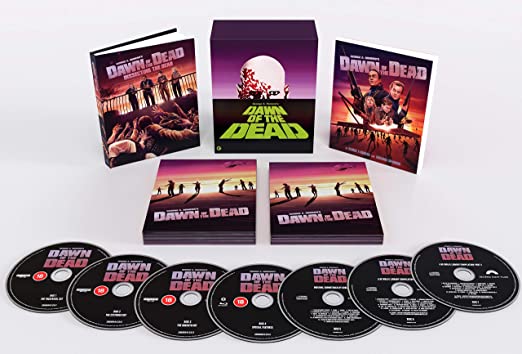 SPECIAL FEATURES : BLU-RAY DISC 1 – THE THEATRICAL CUT
New 4K scan and restoration of the Original Camera Negative by Second Sight at Final Frame New York and London supervised and approved by DoP Michael Gornick
Audio: DTS-HD Master Audio 1.0 Mono – New restoration of the original OCN Optical / DTS-HD Master Audio 5.1
Commentary by George A. Romero, Tom Savini, Christine Forrest
NEW commentary by Travis Crawford
New optional English subtitles for the hearing impaired
BLU-RAY DISC 2 – THE EXTENDED ('CANNES') CUT
Produced using 4K scan of the Theatrical Cut Original Camera Negative and 4K scan of the Extended Cut Colour Reversal Internegative
DTS-HD Master Audio 1.0 Mono
Commentary by Richard P Rubinstein
New optional English subtitles for the hearing impaired
BLU-RAY DISC 3 – THE ARGENTO CUT
4K scan of the Interpositive by Michele De Angelis at Backlight Digital, Rome
Audio: DT-HD Master Audio Mono 1.0 / Surround 5.1 / Stereo 2.0
Commentary by Ken Foree, Scott Reiniger, Gaylen Ross, David Emge
New optional English subtitles for the hearing impaired
BLU-RAY DISC 4 – SPECIAL FEATURES
NEW Zombies and Bikers with John Amplas, Roy Frumkes, Tom Savini, Christine Forrest, Tom Dubensky, Tony Buba, Taso Stavrakis and a whole host of zombies and bikers! (59 mins)
NEW Memories of Monroeville: A tour of the mall with Michael Gornick, Tom Savini, Tom Dubensky and Taso Stavrakis (34 mins)
NEW Raising the Dead: The Production Logistics with Michael Gornick, Christine Forrest, John Amplas, Tom Dubensky (23 mins)
NEW The FX of Dawn with Tom Savini (13 mins)
NEW Dummies! Dummies! An interview with Richard France (12 mins)
NEW The Lost Romero Dawn Interview: previously unreleased archive interview (20 mins)
Super 8 Mall Footage by zombie extra Ralph Langer with option of archive commentary by Robert Langer and new commentary by Ralph Langer (13 mins)
Document of the Dead: The Original Cut with optional commentary by Roy Frumkes (66 mins)
Document of the Dead: The Definitive Cut (100 mins)
The Dead Will Walk 2014 Documentary (80 mins)
Trailers, TV, and Radio Spots (TBC)
LIMITED EDITION CONTENTS
AUDIO CD DISC 1
The Goblin Soundtrack 17 tracks including Alternate and Bonus Tracks
AUDIO CD DISC 2
A De Wolfe library compilation part 1
AUDIO CD DISC 3
A De Wolfe library compilation part 2
Rigid box with lid featuring the original iconic artwork
2 inner digipaks
160-page hardback book featuring new essays, archive article, archive George A. Romero interview and rare behind-the-scenes stills
Dawn of the Dead: The novelisation book by George A. Romero and Susanna Sparrow with exclusive artwork