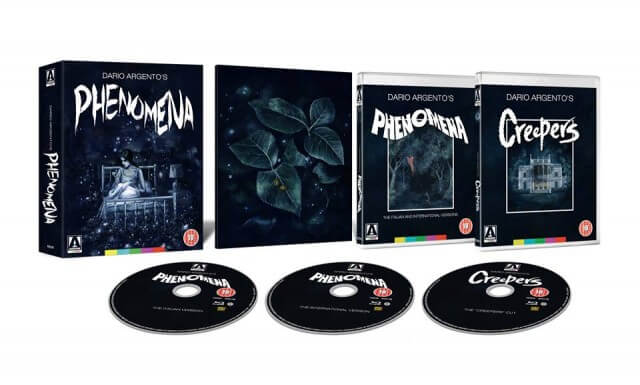 From master of horror Dario Argento (Suspiria, The Bird with the Crystal Plumage) comes Phenomena – one of his most eccentric and unique thrillers, featuring telepathic insects, maggots galore, and even a razor-wielding chimp!
Jennifer Corvino (Jennifer Connelly, Labyrinth), daughter of a world-renowned movie star, arrives in the so-called "Swiss Transylvania" to attend an exclusive girls' school. However, a vicious killer is targeting the pupils, and sleepwalker Jennifer finds herself in the assassin's headlights when her nocturnal wanderings cause her to witness the death of a fellow pupil. Aided by paraplegic etymologist John McGregor (Donald Pleasence, Halloween) and her own uncanny ability to communicate telepathically with insects, Jennifer sets out to track down the killer before she herself becomes the latest victim.
Released in 1985, towards the end of Argento's decade-long golden age as a director, Phenomena co-stars Dalila Di Lazarro (Flesh for Frankenstein), Patrick Bauchau (Clear and Present Danger) and Daria Nicolodi (Tenebrae), and features lush cinematography by Romano Albani (Inferno) and a pounding prog rock score by Goblin (Deep Red, Suspiria). Presented here in a sumptuous new 4K restoration of the film and a newly created "hybrid" English/Italian audio track on the full length 116-minute Italian version, this is the definitive release of Argento's creepy classic.
LIMITED EDITION CONTENTS:
•Brand new 4K restoration of the film from the original camera negative produced by Arrow Video exclusively for this release
•High Definition Blu-ray (1080p) presentations of all three versions of the film: the 116-minute Italian, 110-minute international and 83-minute "Creepers" cuts
•New 5.1 surround mixes of the Italian (116-minute) and English (110-minute) soundtracks in lossless DTS-HD Master Audio, derived from the original 4-channel Dolby Stereo elements
•New hybrid English/Italian soundtrack for the 116-minute version in lossless DTS-HD Master Audio 5.1 and PCM 2.0 stereo*
•Italian soundtrack for the 116-minute version in lossless PCM 2.0 stereo
•English soundtrack for the 110-minute version in lossless PCM 2.0 stereo
•English soundtrack for the 83-minute version in lossless PCM 1.0 mono
•Newly translated English subtitles for the Italian soundtrack
•Optional English subtitles for the deaf and hard of hearing for the English soundtrack
•New audio commentary by Troy Howarth, author of So Deadly, So Perverse: 50 Years of Italian Giallo Films
•The Three Sarcophagi, a new visual essay by Michael Mackenzie comparing the different cuts of Phenomena
•New feature-length documentary including exclusive interviews with co-writer/producer/director Dario Argento, actors Fiorenza Tessari and Davide Marotta, co-writer Franco Ferrini, production manager Angelo Jacono, special optical effects artist Luigi Cozzi, makeup artist Pier Antonio Mecacci and composers Claudio Simonetti and Simon Boswell
•Original Italian and English theatrical trailers
•Limited edition 60-page booklet containing new writing by Mikel J. Koven, Rachael Nisbet and Leonard Jacobs
•Limited edition packaging featuring original and newly commissioned artwork by Candice Tripp
* The 116-minute Italian cut features approximately six minutes of footage for which English audio does not exist. In these instances, the hybrid track reverts to Italian audio with English subtitles.