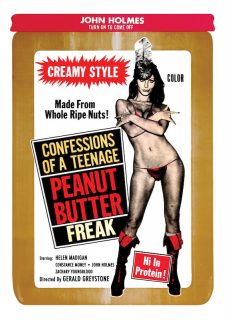 Ever since being sexually traumatized as a young man by his aunt, Billy has had an unhealthy association between peanut butter and sex. After his latest date leaves him, he meets Priscilla (Helen Madigan), an equally odd woman. As the two strangers decide to share stories of their unusual erotic experiences, Billy begins to realize that he may have finally found the girl of his dreams. But can their budding romance survive the ultimate sexual test?
One of the strangest films to emerge from San Francisco's underground erotic film scene, Gerald Graystone's CONFESSIONS OF A TEENAGE PEANUT BUTTER FREAK is a bizarre and surreal romantic comedy, co-written by and starring Zachary Youngblood (DEEP TANGO), and featuring the screen debut of Constance Money (MISTY BEETHOVEN). Vinegar Syndrome presents this under-seen oddity newly restored from rare vault elements and presented fully uncut for the first time on home video!
Directed by: Gerald Graystone / 1975.
Combine cast: Helen Madigan, Constance Money, John Holmes, Zachary Youngblood, Veronica Taylor, Kandi Johnson
Features Include:
• Region free DVD
• Scanned & restored in 2k from 16mm and 35mm vault elements
• Audio interview with: co-writer and star Zachary Youngblood
• Audio interview with: assistant director and assistant editor Jo-Anne Surtees