Monsters Dark Continent directed by BAFTA winner Tom Green, is the much-anticipated continuation to Gareth Edwards' critically acclaimed film Monsters and stars Johnny Harris (Welcome to the Punch), Sam Keeley (What Richard Did), Joe Dempsie ('Game of Thrones'), Kyle Soller (Anna Karenina), Parker Sawyers (Jack Ryan: Shadow Recruit) and Nicholas Pinnock (Captain America: The First Avenger). Ten years on from the events of Monsters, and the 'Infected Zones' have now spread worldwide. In the Middle East a new insurgency has begun.At the same time there has also been a proliferation of Monsters in that region.The Army decide to draft in more numbers to help deal with this insurgency.
CofC: I really liked the film.You've worked in TV directing Misfits and Blackout.How did you make the big leap from directing TV shows to Monsters Dark Continent ?
Tom:Thanks for the kind words about the film and I'm glad you saw it as a stand alone product because that was the intention as it was never meant to be a sequel.The jumping off point from when I became attached was always very much let's stick to the principles of what Gareth had done for Monsters and not make a cynical rehash of the first film.As it was a low budget production I was trying to build a metropolis for my characters.The producers had seen my first short film and asked if I wanted to do something similar to what Gareth Edwards had done with Monsters and I said yes as I loved the first film.They wanted monsters in it but aside from that it was a pretty open brief.
CofC: Monsters Dark Continent is an interesting hybrid of sci-fi and modern warfare which was handled so well.Was it hard juggling elements of the script to tie into the previous film while retaining your vision?
Tom: I had a social drink with Gareth who gave his blessing then he was off making another big monster movie (Godzilla).It was very much a case of do your own thing and we weren't too preoccupied with the first film while making ours.I think the misconceptions surrounding the film was we had a tiny bit more budget than Monsters which we didn't.We had a micro budget which rendered it almost guerilla film making.The whole film was shot in 4 1/2 weeks on a hand held camera and one tripod so really rough and ready. We faced the same challenges as Gareth and i was used to having more resources at my disposal particularly from working in television. We tried to make a hugely ambitious film to show what we could do.In terms of remaining faithful narratively we weren't too preoccupied with that as wanted to make a film that really explored the human cost of conflict in all war not just modern warfare  and have the creatures as a more allegorical aside. Monsters was criticized for not having the monsters up front enough and we've encountered the same thing.I think people are missing the point in that sense, we're exploring something that is socially relevant and hopefully resonant with human psychology and I think if anything, those factors are what the franchise stands for. I think Monsters Dark Continent has broken new ground for low budget filmmaking particularly in the UK.I spoke to Gareth when I showed him the film (which he loved) and he said one days cost of filming on Godzilla equated to more than the entire budget we had for Monsters Dark Continent.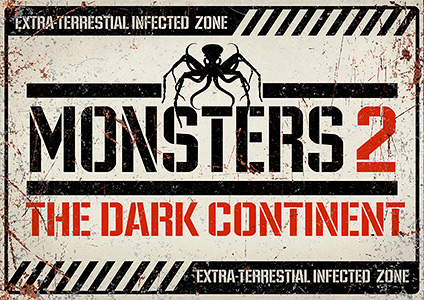 CofC: You co-wrote the story with Jay Basu.Was it always the plan to have the creatures evolve and adapt to a new terrain ? How did the story develop and when did you decide to make it a war film?
Tom:We kicked around some ideas initially but we kept coming back to the warfare theme as it seemed a natural place to jump off from where Gareth's film had ended up.We knew the film had to fit more squarely in the genre and I always wanted to make a war film while venturing into the dark psychological status of what had happened in Monsters.We wanted Monsters Dark Continent to have a social relevance and growing up watching both gulf wars on television seems to permeate a lot of what happens in our society at the moment.A lot of sci-fi films looking back covered themes and issues which were socially relevant at the time.If you look at Geroge Romero's Dawn of the Dead exploring consumerism and HIV and things happening in America. The original Godzilla was created as a way of discussing the atomic bomb and finding ways to deal with that socially and the metaphorical connotations surrounding it.We were trying to do the same thing in our own lo-fi way.
CofC: I like it because it rings true even thought it's not Monsters 2.If you watched both films back to back they would sit perfectly together. I think that's really hard to do.I also liked it as it was a buddy movie encompassing the rights of passage the two main characters go through.Sam Keeley and Johnny Harris put in some really outstanding performances in the film.
Tom:I'm Incredibly proud of all the actors in the film because they were incredibly harsh conditions.We couldn't have been in a more immersive environment.Johnny is one of the finest actors in the country and Sam is a real emerging talent.They stayed method the whole shoot particularly Johnny whose ferocious performance was incredible. He put his heart and soul into the role.I bought him out for a week of boot camp before we shot and he went into character there so was ready and had become his character before the cameras rolled.He went deeper into his characters psychological and spiritual descent the darker the films story progressed.Sam has this incredible well of emotion and is a very lovely and relatable kid audiences can identify with as portraying the loss of innocence and the corruption of conflict in warfare.The film doesn't pull any punches in terms of the harsh reality of warfare ,we worked with real soldiers and undercover officers to give the film authenticity.
CofC: Were there many limitations or problems filming on the salt flats of Jordan?
Tom:The people of Jordan were incredible and they opened up their doors to us.They'd had big films shoot there before ;Transformers,The Hurt Locker and Zero Dark Thirty.We worked with local people who helped us get into certain territories and made sure we hooked up with the Jordan military.We wanted a more rambling narrative and have our film widen out crafting expansive shots of Jordan.It's a small country but it's diversity of landscape was incredible.We placed the actors in a real Bedouin community and we got hit by severe heat and sandstorms.
CofC: Was the filming location always set to be Jordan?
Tom:We wanted Monsters Dark Continent to be a complimentary film to Monsters to sit well together as you mentioned earlier.Monsters was set in the lush jungles of Central America and I wanted my film to be much more harsh and barren and evolve the creatures naturally out of that.I thought that would make our film look and feel completely different cinematically speaking.As soon as I went to Jordan I thought this was the perfect place to film.
CofC:How did you meet Gareth Edwards and did he give you free reign on Monsters Dark Continent?
Tom:We had a beer round a mutual friends house one night and that was it as he was off to film Godzilla.He wished me luck and has been very kind a supportive but wasn't involved creatively at all with the film.Our producers gave us a small budget and said go away and right a script quickly and film in a dynamic way.The film has it's flaws as we wrote it and filmed it quickly only had 6 months to come up with a scipt and a completed film.
CofC: What's next for you?
Tom:We've had an amazing response to the film from the industry.I've had a few exciting meetings in the US, nothing to announce today but hopefully soon.