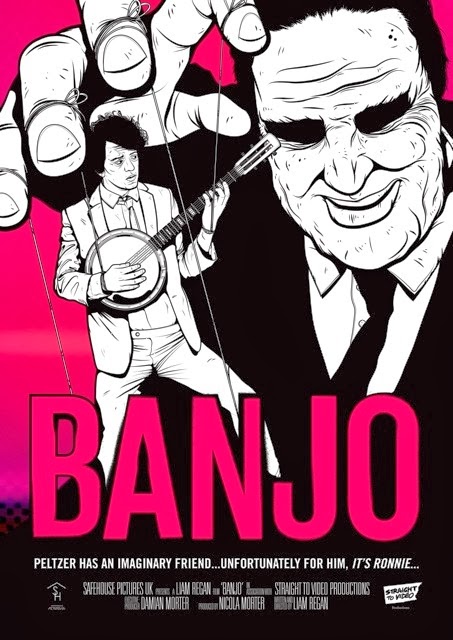 If you have always dreamed of seeing a fever dream mash- up of Basket Case, The Toxic Avenger,Street Trash and Peter Jackson's Bad Taste then BANJO is the movie for you!
Meet Peltzer Arbuckle, a meek and bullied office employee, humiliated by his megalomaniac boss, teasing colleagues and his cheating partner.Peltzer spends his days in misery, stuck in his own mundane, nightmarish reality.Once news about his embarrassing sexual accident makes it's way around the workplace, Peltzer decides to put up with his humiliation no more, and conjures up his childhood imaginary friend Ronnie. Peltzer's world is soon turned upside down, when Ronnie attempts to manipulate him to exact revenge on his tormenting co-workers in the most gruesome fashion.
As the body count stacks up, Peltzer must ultimately decide whether to runaway from his past or take control of his future, as he battles between sanity and madness, in this twisted tale of infidelity, revenge and snapped banjo strings.
Cave: You have been 'living' with Peltzer since 2012's Confessions of Peltzer and The Self Induced Nightmare. How was the journey of BANJO from birth of the idea to it's FrightFest acceptance?
Liam:It's very surreal, to say the least. It's always been a dream of mine to make my own feature length movie, I have always been of the thought that making a movie, is quite like immortality, leaving something behind that will (hopefully) exist forever, in a way, movies are like time capsules. I remember reading movie guides, and Laserdisc mail order catalogs in my early teens, and always dreamed of having a movie, directed by myself, as one of the titles (with hopefully many sequels). So to have my first feature length movie, have it's world premiere at my favourite genre film festival, is a dream come true.
I made the short film 'Confessions of Peltzer' in 2012 (which later became a segment in the anthology movie 'Self Induced Nightmares) and at no time did I think that I would develop the concept into a feature length movie, however I began receiving  emails after the screening of the short film at TromaDance 2013 in New Jersey, which inspired me to look at the characters. I had spare index cards, and an outline for a feature length script that I was writing for years, titled 'Confessions of Adolf', so I took the characters from the Banjo short (now re-titled Confessions of Peltzer) and put them into my feature length concept, and re-worked the outline.
The Banjo screenplay went through around seven different drafts, it was yo-yo of a process, to fine the right balance in tone. The first draft was like a hardcore, exploitation horror movie in the vein of 'A Serbian Film', to it's a quirky-Tim Burton-esque love letter to Kaufman and Henenlotter.
Cave: I thought the cast were superb especially actor/director Damian Morter, James Hamer –Morton ,Clay von Carlowitz ,Laurence R.Harvey and Mr.Troma himself Lloyd Kaufman! How did the cast come together?
Liam:Thanks! I was the casting director on both the short and the feature, I first met Damian Morter after being a camera assistant for one day on his movie 'Book of the Dead: The Eschatrilogy' and we very soon developed a close friendship, after discussing horror movies that we both love and what movies we used to watch as kids, so Damian came onto the project in 2013, as we filmed a teaser trailer to promote the project, basically scenes from the second draft of the screenplay. My friend Chris Gallagher was shooting a movie titled 'Dead Love', which is due to be released later this year, which starred James Hamer-Morton, and after watching his show-reel, I fell in love with his whole look and presence, he looked like someone ripped straight out of an 80's Frank Henenlotter movie like 'Basket Case' or 'Brain Damage'.I've known Lloyd for years, I worked on Return to Nuke 'Em High volume 1 and 2 as a production assistant, and we kept in touch, and he flew over to cameo in the movie!
For the roles of Stiles Rembrandt (Clay von Carlowitz) and Mr. Sawyer (Vito Trigo), I looked at my Troma family, as I worked as a production assistant in Buffalo Niagara NYC back in 2012, on Troma's 'Return to Nuke 'Em High: Volume 1 & 2'. Clay came on board, and as the original Mr. Sawyer (Mik Crone) wasn't able to reprise his role from the short film and trailer, I knew instantly who I wanted to play the role, and make it his own, and that was Vito Trigo. In regards to casting Laurence R. Harvey, I was a huge fan of 'The Human Centipede 2: Full Sequence' and his role within the movie, and I tracked down his agent, sent over the screenplay, and he came on board. I'm so lucky to have worked with an incredible ensemble, who brought my characters to life.Not to mention Damian Morter playing triple duty, with not just playing Ronnie, but also being director of photography and the editor on the movie.
Cave: I see BANJO as a totally original and outrageous genre crowd pleaser and a love letter to Troma, Peter Jackson and a wealth of assorted '80s VHS horror trash.What are your absolute favourite genre films and which film had the most influence on BANJO? I can see Toxic Avenger as a BIG ONE?!
Liam: Oh without a doubt! My Mum purchased me an ex-rental of 'The Toxic Avenger Part 2' when I was eleven years old, and that began my relationship with Troma. I quickly worked my way through their back-catalog of in house titles; 'Class of Nuke 'Em High', 'Troma's WAR', 'Sgt. Kabukiman NYPD' 'Tromeo & Juliet' (my favourite movie of all time). I'm also a huge fan of their pick-up's too, such as 'Sucker The Vampire', 'Cannibal! The Musical', 'Surf Nazis Must Die!', 'Chillers' etc. I was also highly entertained by movies from Charlie Band's Full Moon Entertainment outfit, when they merged with Paramount Pictures in the 90's, they really churned out some quality movies from 1990 to 1994. I would say anthology movies; 'Body Bags', 'Creepshow 2' and 'Cat' Eye', with the HBO TV show 'Tales from the Crypt' playing a big part on the morality tale aspect of my screenplays. Henenlotter movies are a HUGE influence on Banjo; "Basket Case', 'Basket Case 2', 'Brain Damage', 'Frankenhooker'. I would even add the Rachel Talalay movie 'Freddy's Dead: The Final Nightmare' into the mix.However I would say that Banjo was a love letter to movies by Frank Henenlotter, Lloyd Kaufman and Michael Herz. I feel like if Basket Case and The Toxic Avenger had sexual intercourse, their love-child would be named Banjo.
Cave:How (if at all!) autobiographical is Peltzer's character and did you have a childhood friend called Ronnie?
Liam:I didn't have an imaginary friend as a child, however I would say 90% of the character traits of Peltzer, are autobiographical. I actually snapped the banjo string on my penis back in 2011 in London with an ex-girlfriend, I had to walk around the streets of London the next day with tissue paper wrapped around my penis (like a mummy-fied cock) and after we watched the Darren Lynn Bousman directed 'Mother's Day' remake at the Empire cinema in Leicester Square, I turned around to my girlfriend at the time and said "…this might make a fucked up idea for a horror movie', so that idea turned into a three page treatment, to then a fifteen minute short film, and then a feature length movie. All based on a sexual accident one night in London.
Cave: Hahaaaah.What's next for Liam Regan director?
Liam:Right now, as we're conducting this interview, I'm kinda juggling four projects (all in the writing/pre-production) stages. First project is titled 'Vacuum' written by Dan Palmer ('Stalled') and Chris R. Wright ('Small Town Folks') which I'm set to direct. I'm also writing three screenplays, the first up is 'Dolly Love' about an incestuous inanimate sexual relationship between a brother and sister. Another script titled 'Parents Evening' which I liked to describe as 'Mean Girls' meets 'I Spit on Your Grave', and lastly 'Banjo 2'… because I love franchises and sequels.