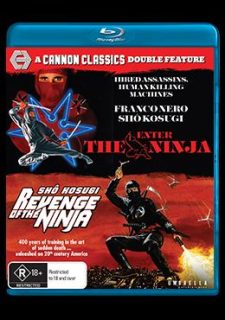 ENTER THE NINJA:Angolan Bush War veteran Cole (Franco Nero, Django) is a westerner living in Japan who has been inducted into the secret fighting rituals of Ninjitsu – the darkest and deadliest of all martial arts. Coming to the aid of a war buddy in the Philippines, Cole is dragged
into a land dispute with a scheming oil baron. With his henchmen no match for the imposing Cole, Venarius hires the best assassin
money can buy – Ninja Hasegawa (martial arts super star Sho Kosugi) enters the fray with a lethal agenda.
REVENGE OF THE NINJA:Martial arts legend Sho Kosugi (Prey For Death) steps into the fray wielding swords and shuriken – displaying super-human abilities of
strength, speed and lethal Ninja know-how in the 1980s action classic Revenge of the Ninja. When a ruthless band of Ninja assassins slaughters the family of Cho Osaki (Kosugi) in his homeland of Japan, he flees to America
in the hope of building a new life. A former Ninja himself, Osaki tries to escape his violent past but soon discovers he has become the
pawn of a ruthless drug trafficker.
DIRECTORS:MENAHEM GOLAN/SAM FIRSTENBERG
CAST:FRANCO NERO,SUSAN GEORGE,SHO KOSUGI,KEITH VITALI