Directed by Antonio Margheriti (YOR, HUNTER FROM THE FUTURE) and starring John Saxon (A NIGHTMARE ON ELM STREET), APOCALYPSE is a nightmarish vision where two Vietnam vets – Saxon and infamous horror actor John Morghen – unleash horror upon the world via a virus that makes the infected want to consume human flesh.
Alexander Blonksteiner's score is as intense and crazed as the cannibals themselves. The opening is a lovely sweeping melody with gentle piano and flute and sets a serene and calm stage for the apocalypse to latch onto. The apocalypse itself scores a nine on the funkometer, with militaristic drums and sinister strings being overtaken by wah-wah funk and guitar noodling in a prog-rock vein. It's both melodic and dischordant, with harsh alternating synth notes combining with shimmering music box notes, and a love theme with a sax that wails more than your average teenager. If you must chow down on someone, make sure CANNIBAL APOCALYPSE is spinning on your turntable.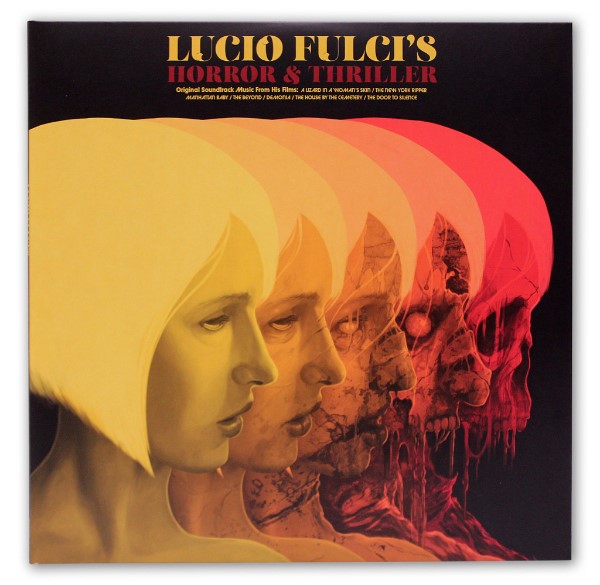 Essential release for completists and casual fans alike, The Fulci compilation put together by Beat Records in Italy features a host of classic Italian horror scores, all with one thing in common: director Lucio Fulci. This compilation features Fulci mainstay Fabio Frizzi, Oscar winner Ennio Morricone, Walter Rizzati, Franco De Masi and more! The record features gorgeous album art by Randy Ortiz, and is pressed on 180 Gram Red & Yellow Vinyl, limited on 1,000 copies (also available on Black Vinyl).