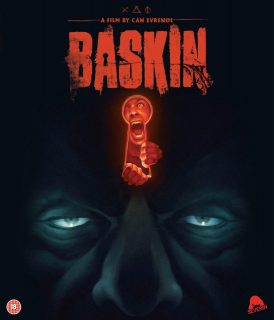 A five-man unit of cops on night patrol get more than they bargain for when they arrive at a creepy backwater town in the middle of nowhere after a call comes over the radio for backup.
Entering a derelict building, the seasoned tough guys and their rookie junior, who's still haunted by a traumatic childhood dream, do the one thing you should never do in this kind of movie: they split up.
They soon realize they've stumbled into a monstrous charnel house and descend into an ever-more nightmarish netherworld where grotesque, mind-wrenching horrors await them at every turn.
But things aren't what they seem in this truly disturbing, outrageously gory, and increasingly surreal film whose unpredictable narrative slippages pull the carpet from under your feet and keep you guessing right up to the final moment. A wildly original film that reconfirms Turkey as the breakout national cinema of the moment.
Based on Evrenol's terrifying 2013 short of the same name, Baskin offers up a nightmarish compendium of imaginative frights that will leave even seasoned horror-movie fans reeling.
Writers: Can Evrenol, Ercin Sadikoglu, Cem Ozuduru, Ogulcan Eren Akay.
Producers: Can Evrenol, Mete Evrenol, Mehpare Evrenol.
Starring: Gorkem Kasal, Ergun Kuyucu, Mehmet Cerrahoglu, Sabahattin Yakut, Mehmet Fatih Dokgoz, Muharrem Bayrak.