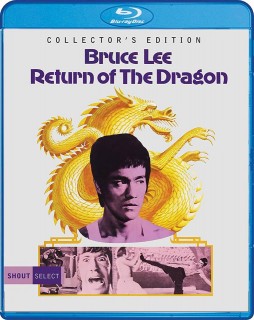 NEW 4K SCAN AND RESTORATION!
Tang Lung (Lee) flies to Rome to help a friend of the family, Chen Ching-hua (Nora Miao). She is being threatened by local gangsters to sell her restaurant and they will stop at nothing to get the property. When Tang proves to be a threat to the syndicate's plans they hire the best martial artists to take out Tang Lung. In one of the film's most famous sequences, Bruce Lee takes on American martial arts expert Colt (Chuck Norris) in the ancient city's majestic Colliseum. This martial arts classic, also known as WAY OF THE DRAGON, is written and directed by Bruce Lee.
Special Features: NEW 4K Transfer From The interpositive / NEW Japanese Opening And Closing Credits / NEW Alternate Final Fight Music Cue / NEW Trailer Gallery / Audio Commentary With Asian Film Expert Mike Leeder / Alternate Title Sequence / Interviews With Sammo Hung, Simon Yam And Wong Jing / Kung Fu? Jon Benn Remembers Return Of The Dragon / TV Spots & Stills Gallery.