HD Restoration of Cult Classic From Original 35mm Film Elements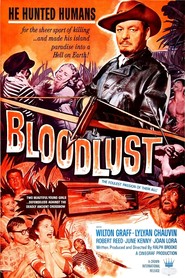 A wealthy hunter meets his new prey when two couples dock their boat on his private island in Bloodlust – available for the first time in full HD restoration from the original 35mm film elements – coming to DVD March 4 from Film Chest Media Group.
 Filmed in 1959 and released in 1961, Bloodlust – starring Robert Reed (The Brady Bunch, The Defenders), June Kenney (Earth vs. the Spider), Joan Lora (Sorority Girl) and Eugene Persson (Earth vs. the Spider, The Party Crashers) – was featured on Mystery Science Theater 3000 in 1994, quickly becoming a cult classic. In this thrilling drama, a group of young adults on a boat excursion become the prey of a sadistic hunter when the two couples come across an uncharted tropical island, which they soon find is inhabited by a wealthy recluse and his staff.
 While their host is initially hospitable, the four investigate and find themselves in the clutches of Dr. Albert Balleau (Wilton Graff, Lili, Lust for Life), whose hobby is hunting both animals and humans. He quickly reveals his true purpose … to hunt down and kill each of his visitors, as he has done with everyone unlucky enough to set foot on his island.Bloodlust is presented in full screen with an aspect ratio of 4 x 3 and original sound.