Directed by: Robert Hartford-Davis
A Champion/Columbia Pictures release.
Starring: Jim Brown,Martin Landau,Herb Jefferson Jr.,Brenda Sykes ,Bruce Glover , Gene Washington,Timothy Brown,Bernie Casey, Jim Watkins.
Five Vietnam vets, wearing pillow cases as masks,rob a mafia run betting shop to finance their B.A.G.(Black Action Group).Their leader, Scott Gunn (Jefferson) is murdered by the mafia who dump his body outside Gunn's Place, Scott' brothers club . Big Jim Brown is the brother in question with vengeance a priority.Mafia Don Capelli (Landau) is sweating blood over missing laundering books stolen with the cash. He sends his right hand heavy Ray (Glover) to sort things out.Gunn spots Ray at the race track and follows him back to his pad where he literally bounces the poor dude all over the place, escaping with a torn shirt as the cops turn up.Gunn and his militant pals go to a dock side warehouse where Capelli and his men are packing heroin in truck tyres.Capelli gets burnt alive and Gunn is the only brother left standing as the credits roll.
Black Gunn is a solid addition to the Blaxploitation movie cannon.Released in 1972, it came at the height of the Black action movie explosion and featured many black American actors who would go on to bigger projects.Jim Browm was fresh from the success of Slaughter (72) and Black Gunn was squeezed in between Slaughter and it's sequel Slaughter's Big Rip-Off (73).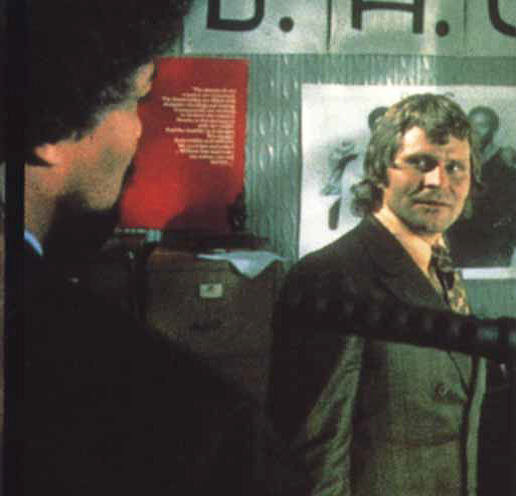 Big Jim Brown starred as SLAUGHTER in 72, Casey was in HIT MAN and Scorsese's BOXCAR BERTHA the same year and Jim Watkins was in COOL BREEZE (74), McQ (74) and the excellent J.D.'S REVENGE (76).Herb Jefferson Jr. was in PRIVATE DUTY NURSES (71), DETROIT 9000 (73), BLACK GODFATHER (74),SUPER DUDE (74), BATTLESTAR GALACTICA (78). Brenda Sykes also appeared in THE LIBERATION OF L.B.JONES (70),GETTING STRAIGHT (70),BABYMAKER (70),PRETTY MAIDS ALL IN A ROW (71),SKIN GAME (71), HONKY (71), CLEOPATRA JONES (73), MANDINGO (75) and DRUM (76).
British director Robert Hartford-Davis also helmed another Blaxploiter, THE TAKE (74) starring  Billy Dee Williams.