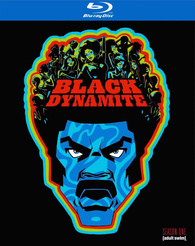 Starring: Michael Jai White, Tommy Davidson, Byron Minns, Kym Whitley, J.B. Smoove, Clifton Powell. 
The 10-episode first season of the Adult Swim animated series is based on Scott Sanders, Byron Minns and Michael Jai White's Black Dynamite (2009)
The Black Dynamite series further chronicles the exploits of the central character, Black Dynamite (voiced by White) — a 1970s renaissance man with a kung-fu grip — and his crew. His sidekick extraordinaire is Bullhorn (Minns), the brains and cunning that complements Black Dynamite's hard-hittin', bone-crushin' style. Providing comic relief on the mean streets is Cream Corn (Tommy Davidson) and classing up the place is the gorgeous Honey Bee (Kym Whitley).
Special features include: Video Commentaries featuring writer Carl Jones and members of the cast / Original Pilot / Behind the Scenes / UltraViolet Digital Copy.