CofC: BAIT is a hard as nails revenge thriller.Well done for getting it into FrightFest.
DB: I'm so pleased to be accepted and I couldn't believe it when I got the email.I'm a huge horror fan and I've been going to FrightFest for the last 6 years.
CofC:You were in Alex Chandon's INBRED as 'Podge'. We're you a fan of his shot on video gore classics Bad Karma and DrillBit ?
DB: Oh yeah, I've got them on DVD and a bunch of his shorts too.I've even got Cradle Of Fear on VHS. That's how I got the audition for INBRED.I said what a big fan I was and he said I've got the role.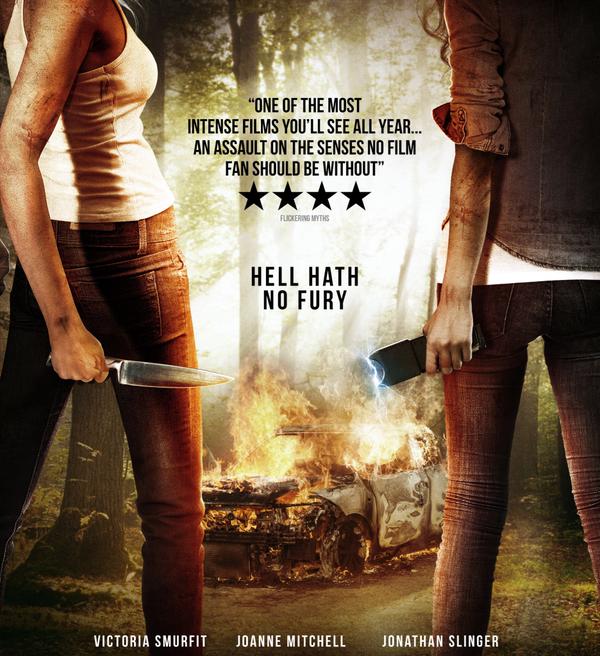 CofC: Your debut horror film Before Dawn was born out of a discussion with your wife about zombie films. Did the idea for BAIT come about in a similar fashion?
DB: Before Dawn dealt with the breakdown of a relationship .We saw a news item in the press about these terrible loan sharks in Sheffield, Poland and Indonesia who were ruining peoples lives.We used this as the backbone of the story for Bait where the loan shark was a monster who becomes almost unstoppable.He is a monster who is exploiting peoples ambitions.We passed that basic idea onto the screenwriters and I loved what they came up with.
CofC: What is it about the horror genre in particular that makes you want to direct?
DB:Horror film audiences are the most open and are usually into other genres like thrillers,art house and exploitation films.I'll watch anything horror related and generally do.I love horror because it's as bad as it can get.There's no pussyfooting around with horror.I love special effect , gore and being terrified from the comfort of your own settee.
CofC: What's up next for you as a director.I'm guessing more horror films!
DB:Oh yeah, of course.We've got loads of ideas.We have two in the pipeline at the moment but we want to do it right.I don't want to do another Before Dawn with the shakey hand held camera.I want to get bigger and better budgets.We hope to shoot something in Puerto Rico soon. Maybe next year.
CofC: You are a FrightFest regular and Before Dawn premiered at the festival.How was that experience?
DB: Showing Before Dawn at FrightFest really gave it the push it needed.A lot of people saw it and reviewed it which gave it great exposure.