After mourning the death of their beloved dog, a young boy and girl enter a forest to burrow into a portal previously used by Satan himself.
Rumoured to be a long lost and cursed film from the 1970s, ANTRUM: THE DEADLIEST FILM EVER MADE examines the horrifying power of storytelling.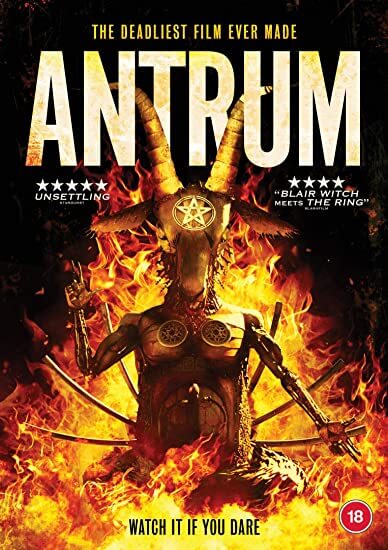 In 1988, ANTRUM was blamed for the death of over fifty-six people when the Budapest cinema in which it premiered burned to the ground. Rumoured to be cursed, all copies were destroyed and the film was thought to be lost. 40 years later an old negative was discovered in an archive in Hungary and the deadliest film ever made is now ready for re-release.
Part twisted children's nightmare and part homage to late '70s and early '80s Forest-set horrors, ANTRUM is an entertaining watch.The lost footage scenes featuring Rowan Smyth and Nicole Tompkins are extremely well done and benefit from their performances.
Riffing on SCALPS (Fred Olen Ray/1983), DON'T GO IN THE WOODS…ALONE (James Bryan/1981) and THE FINAL TERROR (Andrew Davis/1983), ANTRUM also plays to the same tune as the never released POUGHKEEPSIE TAPES (John Erick Dowdle/2007) that were also said to be haunted and no distributor would handle them!

Director/writer team David Amito and Michael Laicini have created a hugely enjoyable cult shocker that every horror fan should seek out.
Never go into the woods searching for Satan!
CAVE OF CULT