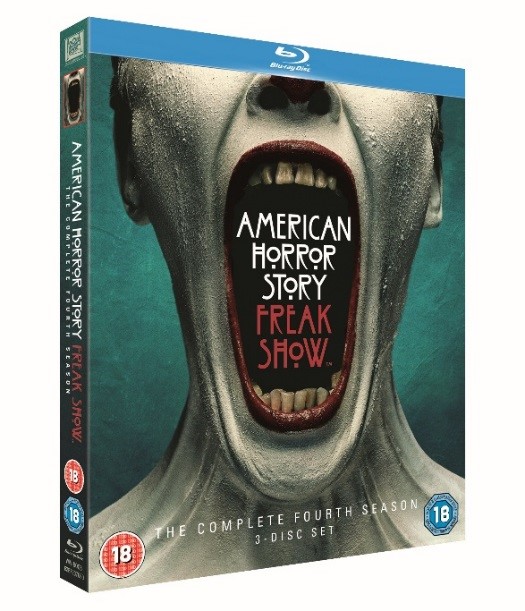 American Horror Story, the Golden-Globe® and Emmy® Award-winning horror anthology from ingenious creator Ryan Murphy (Scream Queens, Glee, Nip/Tuck) returns with AMERICAN HORROR STORY: FREAK SHOW, released on Blu-ray and DVD on 26 October.
This critically acclaimed series boasts an A-List cast, including returning favourites two-time OSCAR® winner Jessica Lange (Big Fish) as circus owner Elsa Mars, OSCAR® winner Kathy Bates (Misery) as bearded lady Ethel Darling, Academy Award® nominee Angela Bassett (Malcolm X) as triple breasted Desiree Dupree,  fan favourite Evan Peters (X: Men – Days of Future Past) as ectrodactyl Jimmy Darling, Golden Globe® nominee Sarah Paulson (12 Years A Slave) as conjoined twins Bette and Dot Tattler and Emma Roberts (Palo Alto) as fortune teller Maggie Esmerelda.
AMERICAN HORROR STORY: FREAK SHOW begins its tale in the quiet, sleepy hamlet of Jupiter, Florida in the year 1952. A troupe of curiosities has just arrived to town, coinciding with the strange emergence of a dark entity that savagely threatens the lives of townsfolk and freaks alike. This is the story of the performers and their desperate journey of survival amidst the dying world of the American carny experience. Could they be trapped at the mercy of the twisted 'Clown killer'?
Roll up, roll up…don't miss your chance to grab the hottest ticket in town as AMERICAN HORROR STORY: FREAK SHOW opens its doors on Blu-ray and DVD this Halloween.
Special Features:Extra-Ordinary Artists/Hollywood Freak Show Season Four Premiere/Getting Freaky: A Peek Under the Tent /Two Heads are better than one/Freaklore: The Specter of Edward Mordrake/Twisty: Behind the Mask of Terror.