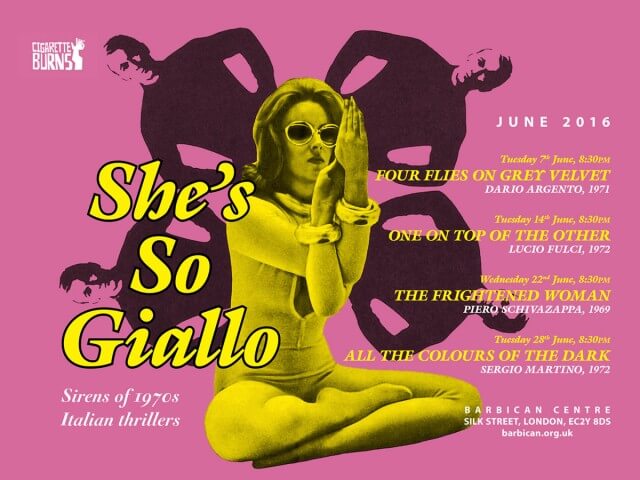 Cigarette Burns have been working on bringing a full season of these films over to a London audience for a long time.They wanted to cover the key elements as solidly as possible, the directors we love, the actresses we adore, and the composers that are so essential to each film.
Kicking off the series off with Dario Argento's third feature, 1971's Four Flies on Grey Velvet, perhaps lesser known than his other films, but it packs a massive punch and to many, it is his finest film. It features the mysterious Mimsy Farmer (Perfume of the Lady in Black) as the partner of a musician who's being harassed by an unknown murderer, out to ruin his life. With a banging Morricone score!
The screening will be introduced by Argento friend and biographer, Frightfest's own Alan Jones on 7th June at 20.30.
Grab your tickets here. This is already almost sold out!
On 14th June, we have Lucio Fulci's first giallo, the ridiculously under seen One On Top of the Other aka Perversion Story from 1969. Featuring Marisa Mell (Danger: Diabloik) as both the unfortunate wife of an otherwise pre-occupied doctor, and the stunning strip-tease girl he becomes obsessed with after he's framed for his wife's murder. Meanwhile Riz Ortolani delivers a funky lounge fest with his signature uptempo grooviness. The film itself is unavailable in the UK on DVD or Blu-ray, but don't let that fool you it's great!
Introduced by Fulci biographer Stephen Thrower.
Grab your tickets here.