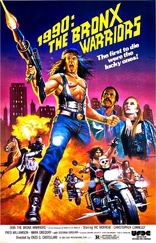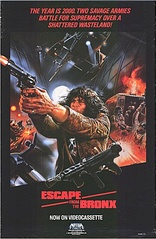 1990: Bronx Warriors
1990: Post-nuke New York City. A young beautiful girl named Ann is running away from her corrupt corporate arms dealer dad and leaves the safe-haven of a maximum-security island known as Manhattan. With a ruthless bounty hunter on her trail, she makes the deadly mistake of escaping to the fearsome forbidden zone of the Bronx, a no-man's wasteland of marauding warriors and cutthroat gangs. When Ann meets gang leader Trash, he decides to protect her and turn the tables on her corporate oppressors by waging an all-out guerilla war!
Escape from the Bronx
Italian futuristic action-schlock sequel. New York City is undergoing a major facelift, and the GC Corporation, the company behind the revamp, wants to oust the 'rats' in the Bronx and move them to the new city. Only their operation, led by cantankerous ex-prison warden Wrangler (Henry Silva), uses a bit of unnecessary force and the warriors aren't happy about it. So, with the help of underground warrior Strike (Giancarlo Prete), they decide to kidnap the President of GC so that they'll stop the operation.
The New Barbarians
One of cult Italian film director Enzo G. Castellari's post apocalyptic films. It is the year 2019 and 15 years after a nuclear war. The world is now run by gangs of human predators who behave like wolves and carnivorous criminals. But a band of survivors discover distant radio signals that give them hope: could there be a part of the world on which other humans live and can they get there before the mutants get to them?