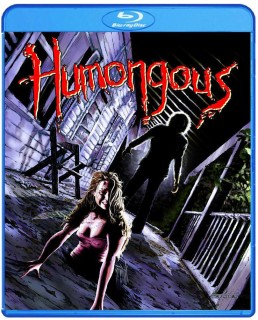 A group of teens on a boat trip get caught in a dense fog and run aground on the rocks of the mysterious 'Dog Island'. They take refuge on the island only to find one of the group is missing and another is critically injured. Unfortunately they are not alone on the island. Something is loose… it's angry… and very hungry! Starring Janet Julian (TV's NANCY DREW, CHOKE CANYON), David Wallace (MORTUARY), Janit Baldwin (PRIME CUT, RUBY) and directed by Paul Lynch (PROM NIGHT, CROSS COUNTRY), now watch this slasher classic in high definition!
The first 2,000 copies of HUMONGOUS will include a slipsleeve featuring custom artwork by artist Kung Fu Bob.
Special Features:
Two Versions of the film – the R-Rated Cut (in HD) and the Unrated Cut (in HD with standard definition inserts).
New interview with actor David Wallace.
Audio Commentary with director Paul Lynch and writer William Gray, moderated by Nathaniel Thompson.
Theatrical Trailer.
Watching in Nightmare Theatre mode.
Reversible cover featuring the original movie poster.