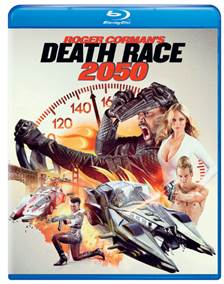 RATCHET UP THE ACTION AND THE MAYHEM IN THE NO-HOLDS-BARRED MODERN REIMAGINATION OF THE CULT CLASSIC, DEATH RACE 2000 (1975).
Roger Corman's Death Race 2050 is available now on Blu-ray™ and DVD from Universal Pictures Home Entertainment.
Forget the DEATH RACE films which were only similar in name to Roger Corman's original DEATH RACE 2000,as we now have Roger Corman's own, official sequel to the glorious excesses of his original classic from 1975.This surely has to be the most long awaited sequel in movie history coming some 42 years after the original. Death Race 2050 is a delirious blend of high-octane action, razor-sharp political satire and full-throttle mayhem.Manu Bennett,Malcolm McDowell and Marci Miller are outstanding in their roles.I rate this film highly and it is a welcome grindhouse classic of the future!