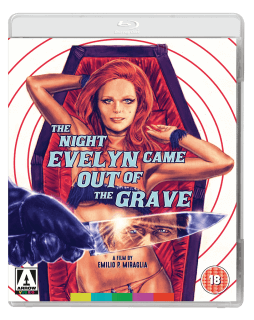 At the height of the Italian giallo boom of the early 1970s, scores of filmmakers turned their hand to crafting their own unique takes on these lurid murder-mystery thrillers.
In The Night Evelyn Came Out of the Grave, director Emilio P. Miraglia (The Red Queen Kills Seven Times) melds the giallo's trademark twisty whodunit storytelling with gothic chills, concocting a gripping horror/thriller hybrid. Troubled aristocrat Alan Cunningham (Anthony Steffen, Django the Bastard), haunted by the death of his first wife Evelyn, tries to move on by marrying the seductive Gladys (Marina Malfatti, All the Colours of the Dark). Marital bliss is short-lived, however, as various relatives meet untimely and gruesome deaths, prompting speculation that a vengeful Evelyn has risen from the grave.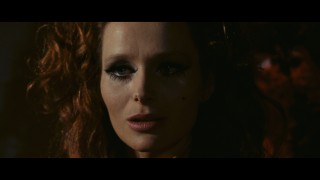 Populated by an array of Euro cult stars, including Giacomo Rossi Stuart (Caltiki the Immortal Monster) and the unforgettable Erika Blank (Kill, Baby… Kill!), and featuring a lush lounge score by giallo maestro Bruno Nicolai, The Night Evelyn Came Out of the Grave offers up a beguiling, unique and downright insane twist on a familiar formula.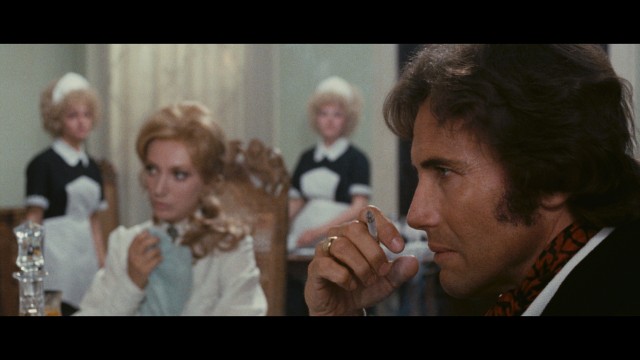 SPECIAL EDITION CONTENTS: Brand new 2K restoration of the film from the original camera negative.
High Definition Blu-ray (1080p) and Standard Definition DVD presentations.
Original mono Italian and English soundtracks (lossless DTS-HD Master Audio on the Blu-ray Disc).
Newly translated English subtitles for the Italian soundtrack.
Optional English subtitles for the deaf and hard of hearing for the English soundtrack.
New audio commentary by Troy Howarth.
Exclusive introduction by Erika Blanc.
New interview with critic Stephen Thrower.
The Night Erika Came Out of the Grave – exclusive interview with Erika Blanc.
The Whip and the Body – archival interview with Erika Blanc.
Still Rising from the Grave – archival interview with production designer Lorenzo Baraldi.
Original Italian theatrical trailer.
Reversible sleeve with original and newly commissioned artwork by Gilles Vranckx.