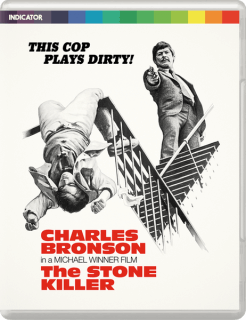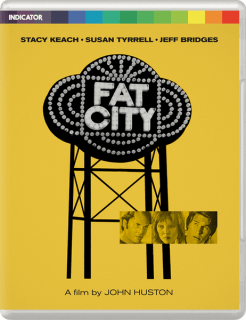 THE STONE KILLER (Michael Winner, 1973)
Release date: 22 May 2017
Limited Dual Format Edition (UK Blu-ray and DVD premiere)
This bloody crime thriller unites again Death Wish regular collaborators Charles Bronson and director Michael Winner. Bronson stars as an ex-New York City cop who is banished to the L.A. Police Department where he begins investigating a mysterious chain of events involving ex-soldiers, the Mafia and a violent campaign of murder.
INDICATOR LIMITED EDITION SPECIAL FEATURES:
• High Definition remaster
• Original mono audio
• Audio commentary
• Rare archival materials from the personal collection of director Michael Winner
• Original theatrical trailer
• Image gallery
• New and improved English subtitles for the deaf and hard-of-hearing
• Limited edition exclusive booklet with a new essay by Paul Talbot, author of Bronson's Loose! The Making of the 'Death Wish' Films and Bronson's Loose Again! On the Set with Charles Bronson
• UK Blu-ray premiere
• Limited Dual Format Edition of 5,000 copies
• More TBC
FAT CITY (John Huston, 1972)
Release date: 27 March 2017
Limited Dual Format Edition (UK Blu-ray and DVD premiere)
John Huston's sombre but compassionate boxing drama is a criminally underseen late-career masterpiece from the great director. Peppered with outstanding performances this gritty yet affectionate look at the world of small-time boxing highlights a down-and-out fighter and a young up-and-comer, both moving through a world of seedy gyms and flop houses.
INDICATOR LIMITED EDITION SPECIAL FEATURES:
• 4K restoration from the original negative
• Original mono audio
• Alternative 5.1 surround sound track
• Audio commentary by film historians Lem Dobbs and Nick Redman
• Sucker Punch Blues: Looking Back on John Huston's 'Fat City' (2017, 55 mins): new documentary featuring interviews with actors Stacy Keach and Candy Clark, casting director Fred Roos and assistant cameraman Gary Vidor.
• An American Classic (2015, 22 mins): a newly illustrated audio interview with Fat City author Leonard Gardner
• John Huston on Fat CIty (1972, 6 mins): an archival interview filmed for the French TV programme Pour le cinéma.
• The John Player Lecture with John Huston (1972, 88 mins): audio recording of an interview conducted by Brian Baxter at the National Film Theatre, London
• Isolated score
• Original theatrical trailer
• Image gallery
• New and improved English subtitles for the deaf and hard-of-hearing
• Limited edition exclusive 28-page booklet with a new essay by Danny Leigh, a contemporary review, and John Huston's reminiscences about the film
• UK home video premiere
• Limited Dual Format Edition of 5,000 copies