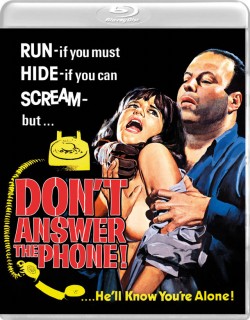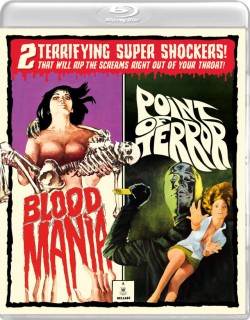 Vinegar Syndrome presents a lurid double dose of 70s sleaze from one of the most enigmatic leading men of the era: Peter Carpenter.In Robert Vincent O'Neill's BLOOD MANIA, Carpenter stars as Craig, lover of the unstable Victoria (Maria De Aragon), who's very keen to see her wealthy father reach an early grave so she can inherit his fortune. Deciding to speed up the process, she concocts a diabolical plan for his demise, only to be met with some unexpected obstacles.Playing like a sex and violence drenched soap opera, BLOOD MANIA is a mind-bending drive-in oddity that keeps you guessing until its final shocking twist.
Then, in Alex Nicol's POINT OF TERROR, Carpenter headlines as Tony Trelos, a lounge singer who mysteriously wakes up on Andrea's (Dyanne Thorne) private beach. The two quickly begin an affair, but things get complicated when Andrea decides to murder her wheelchair bound husband and Tony starts sleeping with Andrea's pretty stepdaughter.With its Tom Jones inspired musical interludes and DP Robert Maxwell's Bava-esque lighting scheme, POINT OF TERROR plays like a candy colored acid trip into the world of vanity themed exploitation.
Vinegar Syndrome proudly brings both of these jaw dropping classics to Blu-ray, newly restored from their original negatives and featuring their much sought after alternative TV versions (exclusive to this first pressing of 3,000 units)!
Directed by: Robert Vincent O'Neill & Alex Nichol 1970-1971 / 168 minutes (combined) / Color / 1.85:1 Actors: Peter Carpenter, Maria De Aragon, Leslie Simms, Vicki Peters, Dyanne Thorne, Jacqueline Dalya
Features Include:
LIMITED EDITION EXCLUSIVE: Bonus DVD featuring alternate TV versions for both films! (Limited to 3,000 units) • Region free 3-disc Blu-ray and DVD combo pack • Both films scanned and restored in 2k from 35mm camera negative • Commentary track on BLOOD MANIA with Robert Vincent O'Neill (Director), Leslie Simms (Actress) and Vicki Peters (Actress) • Video interview and introduction with director Robert Vincent O'Neill • Video interview with actress Leslie Simms • Theatrical trailers for both films • TV spots for both films • Promotional galleries for both films • Reverse cover artwork • English SDH Subtitles
In DON'T ANSWER THE PHONE!, Vietnam vet Kirk Smith (Nicholas Worth) spends his days photographing pretty girls. He spends his nights strangling them. With the LAPD baffled by what seems to be a series of random killings, radio psychiatrist Lindsay Gale begins receiving menacing calls from Smith, who then sets his murderous sights on her patients, and soon Gale herself.
One time director Robert Hammer's gripping and suspenseful early slasher, DON'T ANSWER THE PHONE!, blends unnerving psychological drama with brutal violence, complimented by a career performance from Nicholas Worth and atmospheric cinematography by James L. Carter (TEXAS CHAINSAW MASSACRE 3).
Vinegar Syndrome presents this genre film masterpiece freshly restored in 4k from its recently discovered 35mm original camera negative, and looking better than it ever has on home video.
Directed by: Robert Hammer 1979 / 95 minutes / Color / 1.85:1 Actors: Nicholas Worth, James Westmoreland, Flo Lawrence, Ben Frank, Denise Galik
Features Include:
Scanned and restored in 4k from recently discovered 35mm original negative • All extras included on both Blu-ray and DVD • Commentary track with writer / producer / director Robert Hammer • Director introduction • "Answering the Phone" video interview with star Nicholas Worth • "For What It's Worth" career retrospective with Nicholas Worth • Isolated soundtrack by composer Byron Allred • Original theatrical trailer • Multiple TV spots • Promotional still gallery • 16 page booklet with essay by Michael Gingold • Reversible cover artwork • English SDH Subtitles.